A manpower outsourcing partner is a business partner who will assist your company in obtaining the greatest manpower employees, considerably enhancing your firm's efficiency level. Many businesses all around the world rely on this type of business partner to make their operations more successful and efficient, becoming a valuable asset to any organization.
The meaning and procedure of manpower outsourcing will entail a third party and the management and development of specific worker categories inside a contract. Many industries and businesses, including banking, oil and gas, hospitality, manufacturing, and many more, have successfully attained their objectives as a result of this valuable service.
---
Responsibilities Taken Care of By the Manpower Outsourcing Company
If you decide to engage with a manpower outsourcing companies, you must be aware of their duties and obligations, which include a complete procedure for hiring and managing your workers for the duration of the contract. Let's have a look at the duties that your manpower outsourcing agency will be responsible for during their service:
1. Know about the company's requirements
Before beginning the hiring and management process, your outsourcing partner must examine the available jobs in your firm and determine the ingredients required for effective completion. This process entails describing the functions and required experiences for the various jobs, with the goal of attracting the proper people once the vacancy is published.
2. Find the candidates based on the job description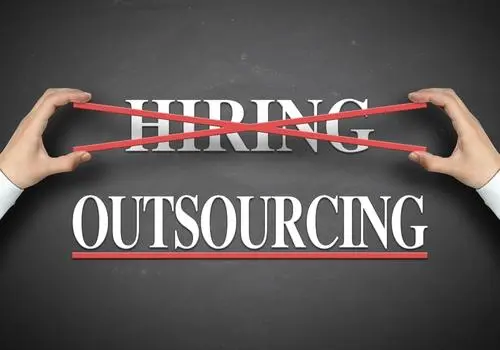 The second step that your partner must take is to register new candidates and evaluate their abilities and expertise. This procedure will establish the required information about the candidates in order to begin employing a new workforce, such as qualifications, competencies, skills, education, experience, and many other critical factors. The information gathered will assist your outsourcing firm in selecting between top candidates. Interviews will begin immediately after this phase is completed.
3. Screening the candidate for the job interview
Your outsourcing partner must collect the information and resumes that each prospect supplied in order to begin reviewing their data and selecting the best candidates for interviews. Whether your business partner conducts face-to-face or remote interviews, they must consider every detail provided by the candidates during this process in order to determine which prospects have the best experience and traits to work in the firm.
4. Selection of the best candidate and implementing the HR strategies
After picking the best applicants for the job, your manpower partner will be in charge of managing everything linked to them, including establishing and implementing HR strategies to meet the demands of the company and the workforce. HR techniques and strategies are critical for efficiently managing your personnel, especially in the current climate.
To conclude, while working with you, a manpower outsourcing partner will be in charge of recruiting, selecting, and managing your company's employees. It is a significant benefit to assist you in saving money and time when it comes to manpower chores, and we will also discuss some reasons to find and select the proper outsourcing partner.
---
How to Select Manpower Outsourcing Company?
With the tremendous improvement in communication technologies, most organizations would struggle to hire the suitable people. You no longer need to be concerned.
Simply outsource the task to a staffing agency and unwind! However, be certain that you select the correct recruitment agency.
Manpower services are nothing new to any organization, regardless of industry. Employers must sort through applicants, shortlist them, and onboard them as part of the employment process.
Manpower is critical for you! There are numerous job consultancies accessible nowadays, but choosing the right one for your company is critical.
Let's have a look at some of the essential things to consider when selecting a manpower supplier for your company.
1. Look into the company's history
The first thing you should do is make sure that the firm you're looking for actually exists. The origins and history of the manpower agency are significant since they provide trust in your company's ability to flourish.
2. Professional ethical compliance
When it comes to recruiting, choose a firm that is committed to your organization's culture and ethics compliance. This will make it easier for you to comply with the ethics and manage good communication. It is also crucial because your client will be delighted only if you fill the vacancy. So be a little astute in forming the correct alliances.
3. The quality factor is critical
Quality is critical for every business. Make certain that the consultant provides you with a significant number of resumes and profiles to review and shortlist. At the same time, make sure to focus on quality rather than quantity!
4. Request a portfolio
When you have a need to fill a position, be sure that the agency has extensive expertise and clients in the industry that you are searching for. When it comes to workforce outsourcing for your business, this knowledge will serve you well.
5. In-house vacancy
If you need to fill certain roles in your office right away, seek assistance from a reputable staffing agency.
6. Authenticity
Before signing an agreement with any agency, make sure that the firm is authenticated and licensed to ensure that your business will not suffer as a result of this cooperation. Consider how standardized the workforce firm is for you.
---
Rundown
Last but not least, you must outsource the best manpower agency that is confident and active enough to meet the needs of your organization and is a trustworthy partner throughout. Every firm, no matter how large or small, must deal with the issue of finding dependable employees. When you do not have the correct employees in the workplace, it can have an impact on the smooth operation of your organization.
In such instances, hiring the correct agency and recruiters should be your first choice. Keep the above pointers in mind and select manpower outsourcing company in India that does the best job for you.